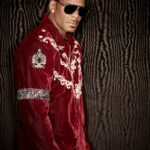 Ladies, you know you love some R. Kelly.  Heck some of you may have some babies because of this man.
Everybody walk the Dinosaur!  Don't laugh, you know this was your jam back in the day.
Who remembers this jam?  I have no clue why this song popped in my head as hubby and I were getting ready for bed.  Yep, you know it!  I started singing and dancing around like it was 1996.