This website contains affiliate links. As an Amazon Associate, I earn from qualifying purchases. Some posts are in collaboration, guest, and partnered in efforts to bring YOU great information and inspiration to your life..
As you see in my header, I have natural big curly hair.  It always seems to strike up a conversation with curious people.  I chuckle whenever someone tries to ask me questions about my hair (they always seem to be a bit nervous).  And I really chuckle when someone reaches out to touch it.  "No!  Don't do that!"  "Please, don't touch my hair!" "Yes, it's my hair and yes it's this curly, bouncy and it will grow like a Chia Pet over the course of a few days, even hours."  However, two of my daughters' hair is nothing like mine, and one is very similar.
Recently my tween and teen asked about wearing their hair down, but with some nice curls or waves to it. Â We tried rollers, but they hurt their head and didn't give them what they wanted. Â So, we started our back-to-school hairstyles adventure(yes, we do a few practice sessions). Â That adventure of finding something to work to turn that poof or braid into nice hairstyles with curls or waves.
Things Begin To Matter With Tweens and Teens – Hair Styles Being One Of Them
My family has some pretty interesting hair days and stories. Â I will be sure to share some of these stories in future blog posts. Â Right now, I want to share a story about some rollers I received and believe I found the answer to one of our hair sagas. Â Maybe the answer to my kids rocking hairstyles with curls that will last! Â They go back and forth on wearing their natural curl/wave, wearing it straight or wanting big bouncy curls.
If you don't have tweens/teens yet, go ahead and prepare for the day to come. Â Everything seems to matter. Â Yes, this means caring about appearance and especially caring about hair. Â Their eggs were scrambled vs. fried. Â But, you always eat fried eggs. Â Just craziness I tell you! Â They change like the wind. Â Yeah, that sentence about the eggs, so random. Â But that's what it's like living with tween/teen girls.
Getting My Divas To Understand Their Hair Types And Rocking Natural Hairstyles With Curls
Hair types and texture play a huge role in my home with different styles and products. Â One daughter has 3c/4a hair, and two have 4c. Â I have 3c/4a hair and ROCK my natural curls all day every day. Â My girls haven't yet embraced their natural curl nor know how to handle it on a daily basis. Â They are working on it though. Â Cause this mama wants them to LOVE the skin they are in and LOVE their natural crown and glory!
Procrastination Jonz is our teen. Â She wants the same curl pattern I have, with that comes a lesson about hair type; she has 4c. Â She completely understands it, but it's a learning experience on how to manage it. Â I have to let her know that I didn't always know how to do my hair and heck, I still don't know what I'm going to get when I step out of that shower and comb through this mess. Â Her curl is much tighter and involves much more moisturizing, so products and tools are essential. We are learning to embrace that little fro and learning to manipulate it with twists and such to get a little different look. Â She is learning to OWN IT! Â So, BOOM!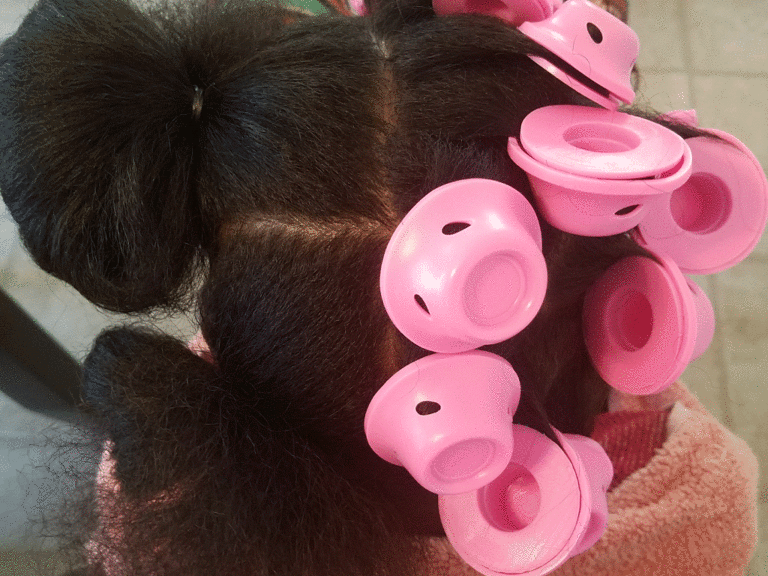 Equestrian Girl Forever likes to add a bit of body and curl to her hair toward the end of the week. Â She tends to keep it in a braid with us redoing the braid every other day up till her riding lesson that takes place mid week. Â After that, she wants to add a bit of GLAM to her hair. Â We've tried her sleeping in rollers in the past, only for her to complain of a headache or to take them out due them hurting her head while sleeping. Â Since her hair type is more like mine, I do know how to work with it better. However, she isn't comfortable with the Chia Pet look throughout the day and hasn't yet mastered the, "Don't YOU EVEN THINK ABOUT TOUCHING MY HAIR" look.
You can't have people putting their fingers all in your head all day. Otherwise, you will look a HOT mess before getting home. Â She is also still very much into the straight, sleek look. Â I refuse to flat iron it daily, and the humidity kills every dream of wearing it down like that.
Some of you may be thinking, just get braids in their hair. Â Yes, Procrastination Jonz has gotten braids before, but you still must learn how to work with your OWN hair. Â Equestrian Girl Forever's hair doesn't hold well and this mama AIN'T paying money like that for some braids to literally unravel the next day. Â Anywho….
The Day My Rollers Arrived
I was sitting at my desk that faces out to the street. Â My neighbors call me a peeper. Â I'm not a peeper, I just see you walking down the street and since you wave that means you're peeping in my house. Â Right? Â LOL Â Naw, it's cool, it's all in fun. Â I know these folks. Â Ok, anywho… The mail truck pulled up, put mail in the box and drove off. Â I casually walked out to the mailbox. Â Ok, I crawled out to the mailbox because it was a workout day. Most days I go straight up to shower when I walk in, but there are a few days that I so very Divalicious sit. Â Ok, NO I pass out immediately before my legs buckle!
I received my package from Slay Deal! Â Everyone was excited and ready to give the rollers a try. Â Fashion Diva Girl wanted to be first in line, but I had just braided her hair, so I told her she had to wait another time.
We waited a couple of days before giving it a whirl because we were talking about going to the beach and there was NO way I was going to wash, blow dry, roll their hair and have them looking FAB only to jump in the ocean. Â Nope! Â Hair day is a full day up in the Jonz house!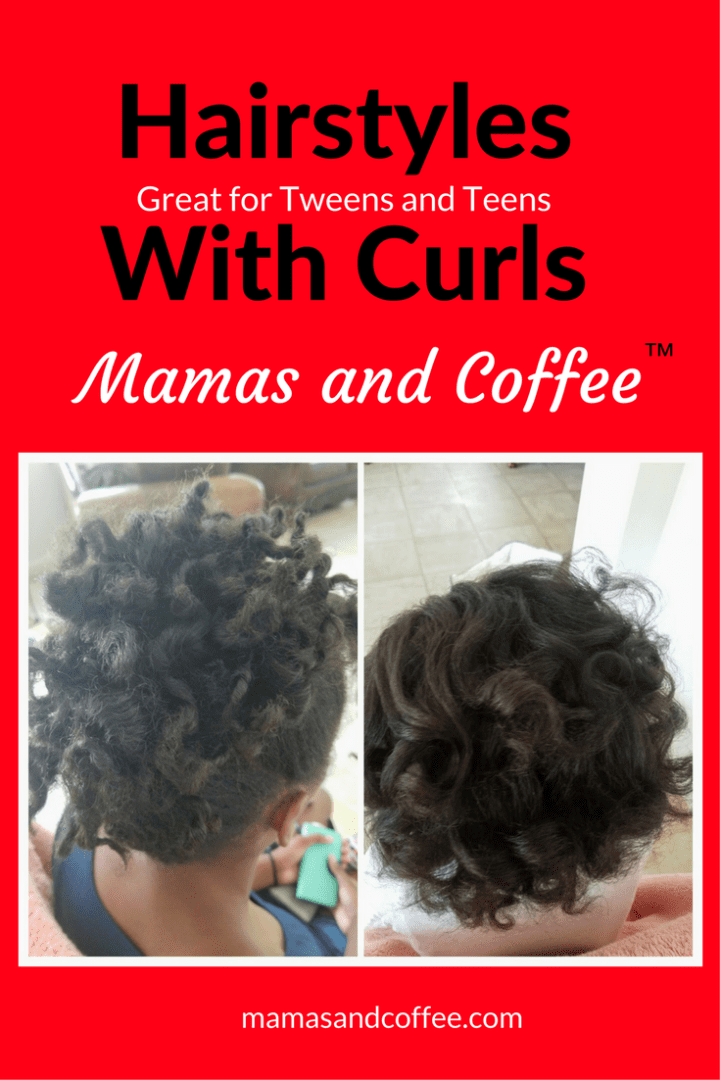 Getting These Hairstyles With Curls On My Daughter's Natural Hair
Remember, the girls have naturally curly hair, and those curls do not look like the ones above.  Besides using some heat protectant for blow drying and some oil for moisture, I used CurlMagic™ . The girls slept in them over night without complaining.  No headaches, no tender scalp, nothing.  And the results are shown above.  We absolutely LOVE them!  I will be using them on my hair soon.
So, if you are a curly head and want a softer curl, just blow dry your hair, part your hair (and I wasn't neat about it), roll and BOOM!!! Â I used the smaller rollers near the front of the head and the larger rollers for the rest. Â And if you have straight hair and want to have some bounce to it, go for it too! Â Works on ALL hair types.
Here's a video for you to watch me in action. Â This gal is no hairdresser, just a mom wanting her daughters to lover their natural hair and ROCK IT!
Know You, Be You, Love You
~ MomJonz
Did you enjoy this article? Useful? Entertaining? Your support is appreciated in helping us continue spreading our message and sharing content. The cup of coffee you buy is greatly appreciated.

Do you want to join a fun, supportive group of women? Come on over to our supportive, loving and fun facebook group. Mamas and Coffee® is all about the REAL of womanhood. Join Us.