This website contains affiliate links. As an Amazon Associate, I earn from qualifying purchases. Some posts are in collaboration, guest, and partnered in efforts to bring YOU great information and inspiration to your life..
A few weeks ago my family had to make a major decision.  This decision consisted of a few tears and a lot of emotions.  I won't lie, I was one filled with emotions and wanted to have a full tantrum in the middle of the field.  Like that two-year-old tantrum going down in the middle of a department store.
My daughter, Equestrian Girl Forever had just completed a show after being at the barn at 6:30 a.m. with DadJonz. Â I had the other two girls and met them at the County Fair Grounds shortly before the show. Â We were all proud of Equestrian Girl's performance; she was all smiles winning 2nd place in her first big show.
As we all walked toward the parking lot food was mentioned. Â Of course, everyone turned to me asking what we would eat for breakfast. Â "Breakfast? Hmmmm….I don't know?" Â There was nothing in the fridge to cook, and I wasn't trying to run to the grocery store. Â I mentioned good ole faithful, Cracker Barrel. Â The Softball Chef reminded me that she had softball practice. Â For whatever reason, that set me off. Â First of all, practice wasn't for hours and secondly, I was TIRED of going to practice. Â This kid played on three softball teams, so we practiced or played a game 5-7 nights a week. This mama was TIRED.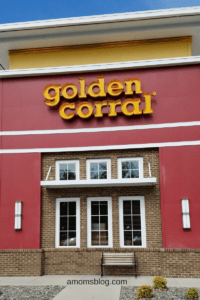 Everyone tried stating their case for their restaurant of choice.  Out of the blue, Fashion Diva Girl said Golden Corral.  DadJonz said," NO!"  We aren't fans of buffets.  Softball Chef agreed to Golden Corral and Equestrian Girl sided with us.  However, we decided to grant Fashion Diva Girl her wish.
As soon as we walked in we were greeted by the friendly cashier. Â She was all smiles and patient as our kids argued about the trays. Â Yeah, we're that family that can cause a bit of havoc at times. Â There was no need to get five trays. Â But of course, everyone wanted their own. Â And yes, I was looking at my kids like they'd lost their minds!
DadJonz paid, and I suddenly noticed a table with a few older gentleman. Â I walked over, and they were Korean War and Vietnam Veterans. Â We smiled, spoke and found a table.
So, here comes the scary part for me with buffets. Â The cleanliness of the restaurant overall, the handling of food and cleanliness of the bar area. Â My heart was pounding as we approached the plates. I grabbed mine, the kids grabbed theirs, and DadJonz grabbed his. Â Yes, I was eyeballing everyone walking around the restaurant, especially the kids. Â Kids as in mine and everyone else's. Â It's ALWAYS the kids that do me in. Why? Because parents give them free, roam to serve themselves. Â Runny noses, sneezing and coughing all over the food. Â OH MY! Â Yes, I know there's nothing any restaurant can do about this, but parents. Â COME ON! Â Stay with your kids and watch them. Â So, anywho…..I approached the bacon and noticed several employees behind the counter areas wiping things down. Â After a quick scan, I realized someone was attending the bar area and keeping things nice and tidy. Â SCORE!
My family headed back to our table, said grace and stuffed our faces. Â One of the kids (I can't recall who) asked about the men at the table. Â As we chatted about our country's service members, it was enlightening to see how observant they were and intrigued about the wars. Â Their grandfather is a Vietnam Veteran, and they've had conversations, and they've learned about war at school. Â They've passed many Veterans walking through the stores, etc. DadJonz is currently serving our country as a US Naval officer. Â They understand him coming and going, but there was something special about seeing the men at the table. Â Something that sparked a lot of conversation, questions, concern, and love.
As we finished up, I asked our waitress a few questions and let her know I was very pleased with the excellent customer service we experienced from the cashier, herself and food staff. She grabbed the manager, and I had the pleasure of speaking with her as well.  As we spoke, she shared a bit of excellent information about this local Golden Corral.  Many establishments honor our Military a few times a year, but Golden Corral shows appreciation year round.  Also, they have $2.99 kid meals every Tuesday for children under 12.  Oh, this tid bit of information totally sparked my interest.  The kids enjoyed the meal, so why not come in during a kid's eat deal night!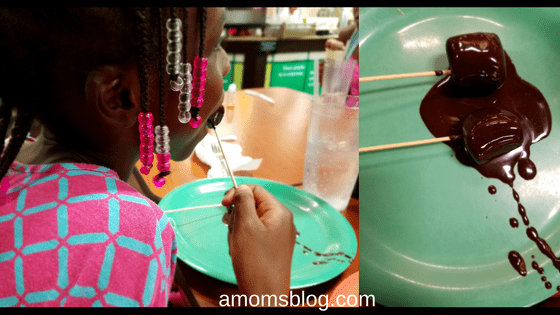 Fashion Diva Girl loved the chocolate fountain. Â Chocolate went on for days on her face and down her arm. Â She was happy, and that's all that mattered.
Did you know Golden Corral offers a summer camp? Â I sure didn't. Â You can learn more about this camp here.
Many establishments are honoring our veterans on Friday, November 11.  Be sure to check them out, but Golden Corral's Veterans eat FREE day is Monday, November 14 for the Patuxent River MD location. Be sure to stop by with your military ID.  Check with your local location for their day of recognizing Veterans.
So, if you're out this weekend say Thank you to a Veteran. Â Heck, say thank you anytime. Â And when you see our older Vets let them know how much you truly appreciate them for their service.
I did receive free meal vouchers after letting the manager know my plans of doing this post. Â All opinions are mine based on this visit.Â
Did you enjoy this article? Useful? Entertaining? Your support is appreciated in helping us continue spreading our message and sharing content. The cup of coffee you buy is greatly appreciated.

Do you want to join a fun, supportive group of women? Come on over to our supportive, loving and fun facebook group. Mamas and Coffee® is all about the REAL of womanhood. Join Us.