This website contains affiliate links. As an Amazon Associate, I earn from qualifying purchases. Some posts are in collaboration, guest, and partnered in efforts to bring YOU great information and inspiration to your life..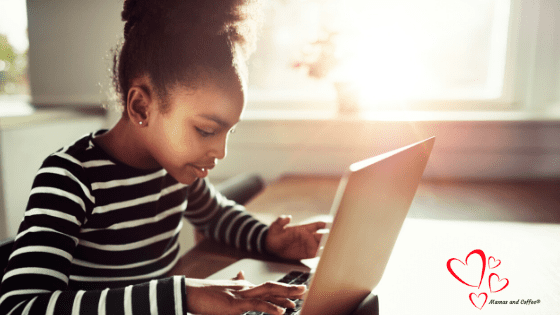 I asked my kids to write a little something that I could share to let other moms know what my kids are doing during quarantine as we continue to face COVID-19. Fashion Diva Girl stepped up to plate.
And she presented a contract for me to sign too. Darn kid! And yes! I signed it.
What my days are like as a tween during quarantine 🙂
I wake up in the morning around 8:30 am, or around 9:00 am.Â
I get dressed, brush my teeth, and do my hair.
I make myself some breakfast, which is mostly waffles because that is my favorite breakfast.
I watch some Tik Toks while I eat breakfast or I watch my favorite show on Disney, which is Good Luck Charlie!Â
After I finish eating my breakfast, I clean up my mess and clean the kitchen.
Part of my chores is sanitizing the doorknobs and tables around my house.
After I do my chores I call my cousin or some of my friends and we usually play Roblox or do face masks as we Facetime. Here some great simple homemade face masks too.
We play Roblox for literally the whole day until we have to go or we get bored.
Around 5:00 P.M. is dinner time.Â
My family and I sit at our dining room table and talk about our day and what we did.
Once we are done eating, I tell everyone to please load their dishes in the dishwasher so I don't have to. (I'm in charge of clearing the kitchen table and counters after dinner). My other two sisters have different duties for the kitchen after dinner.
Once they load their dishes I play some more Roblox or watch some Disney channel while I eat some dessert.
Once it's around 8:00 p.m., my sisters and I go on our nightly walk.
Don't worry it doesn't get dark at that time where I live.
Once we are done with our walk we wash our hands when we first come back inside.
I start to make my Tik Tok for the night.Â
After a couple of fails and mistakes, I find the perfect video I made and post it.
After I do my Tik Tok for the night, I just go through Tik Tok and like loads of videos until I feel tired.
Once I feel tired I go upstairs and take a warm shower and put my pajamas on for bed.Â
I turn my tv on while I try to fall asleep 🙂
And that is my whole day as a kid in quarantine 🙂
My Response To My Tween's Day
We have a tween and two teenage daughters. When I first read my tween's response I thought, "hmmm….she has a day filled with NOTHING!"
But then I thought about it and said, "she's talking to and engaging with her cousin and friends. She's doing her chores. We have daily discussions as a family and they are spending time together as sisters." That's what we want.
Does she get bored? Yes. But she would say she's bored even if we were not facing quarantine. She's going to have a little Summer Bridge fun added to her routine too.
So, don't stress if your tweens are chilling, playing video games or talking with friends all day. I mean, yeah, you want them to help out around the house. You want them to get some fresh air from time to time. BUT don't sweat every moment of their quarantine summer.
Did you enjoy this article? Useful? Entertaining? Your support is appreciated in helping us continue spreading our message and sharing content. The cup of coffee you buy is greatly appreciated.

Do you want to join a fun, supportive group of women? Come on over to our supportive, loving and fun facebook group. Mamas and Coffee® is all about the REAL of womanhood. Join Us.

Latest posts by Fashion Diva Girl
(see all)