This website contains affiliate links and sponsored posts. As an Amazon Associate, I earn from qualifying purchases. I am also paid to write articles for brands. But no worries, all opinions are mine.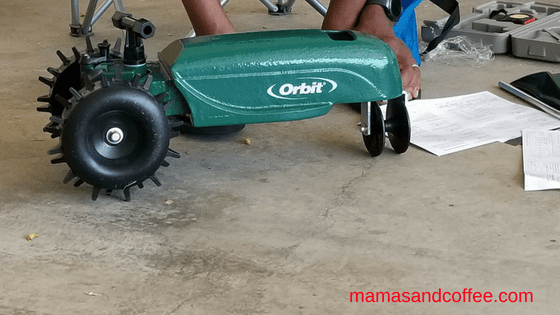 We are super excited as the time quickly approaches for us to see our new home.  If you've been reading my blog, you know we just recently moved from Hawaii and heading to our new duty station.  Yes, we are buying a home and did so sight unseen.  We put all trust in our realtors.  The one thing DadJonz and I was most concerned about was the yard.  We wanted something big enough for Carlos, but not too big cause we aren't the greatest when it comes to yard work.  Yes, we will kill any vegetation around.  The biggest problem for us is watering.  Watering the lawn will start a straight up argument in our house.  Ok, not a real argument, but neither of us wants to take responsibility.
I can't wait to use the traveling sprinkler that we purchased while living in Hawaii.  Our backyard in Hawaii fried and we were tired of moving the sprinkler around the yard to revive it. You already know DadJonz went online to find something that would cover the entire yard without having to go out and move it around every 30 minutes.
The plan is to keep our same rotation.  DadJonz turns the traveling sprinkler on before heading off to work, and I shut the faucet off later that morning.
We both avoid getting a shower or having to run to avoid getting wet.  The self-propelled sprinkler starts away from the faucet and no need to move it around.  This helps with the back and forth of either moving it and getting wet or turning the faucet off and on.
I call it my little green engine.  It slowly moves along the lawn and waters every inch of it.  If you need a bit of help to know when your lawn needs watering, take a read here.
Did you enjoy this article? Useful? Entertaining? Your support is appreciated in helping us continue spreading our message and sharing content. The cup of coffee you buy is greatly appreciated.

Do you want to join a fun, supportive group of women? Come on over to our supportive, loving and fun facebook group. Mamas and Coffee® is all about the REAL of womanhood. Join Us.