This website contains affiliate links. As an Amazon Associate, I earn from qualifying purchases. Some posts are in collaboration, guest, and partnered in efforts to bring YOU great information and inspiration to your life..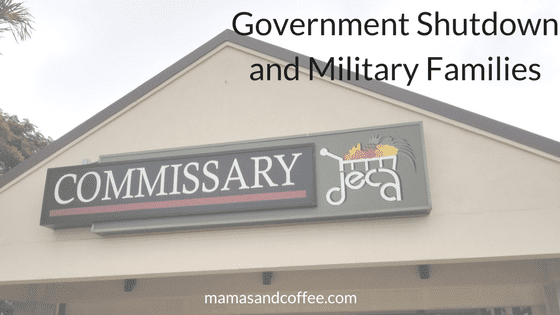 Last weekend my family woke up to a missile scare here in Hawaii. This weekend we went to bed Friday, January 20, 2018, to news about a government shutdown. It was like, wow what a way to start 2018! We thought we were going to be blown up and now we won't get paid.
I'm not here to talk about where to find financial relief if you are military or a civilian employee of the government. I am however here to discuss how to make plans for your family for any future government shutdowns. There have been several, so it's nothing new to our Nation, and you can never go wrong with being prepared. And hey, even if there's not another Government Shutdown for years to come while you serve your country, you will have a nice stash.
And if we are real for a moment, many of us do not think about our military ever going without pay while being active duty.
Have An Emergency Fund In PlaceÂ
We plan to have a savings account, but what about a separate emergency fund in place just for regular budget expenses. Things such as groceries, gas, that must have Starbucks drink. I guess you can call it "Just Incase There's A Government Shut Down Emergency Fund."
The first thoughts for many military members during this shutdown is, "How long will it last?" "How will I feed my family?" "How will I pay my rent and utilities?"
Government Shutdown Military Family and How It Impacts Us
I know living here in Hawaii our grocery bill increased a bit from the mainland. We try to shop at the Commissary and Costco as much as possible to save a few bucks. Hickam Commissary will close their doors January 24, 2018, if there is no resolution of this Government Shutdown. What does this mean for families? It means shopping at local stores and certain parts of the world prices are higher than the mainland or the US. This can ultimately throw families budgets into a whirlwind. You can read more about commissary closures here at the DeCA's Corporate Communication.
Local stores in Hawaii are a bit expensive. I stopped by a local store to grab a few items to make Tacos a few hours before the News announced the shutdown. An 8-ounce pack of shredded cheese was on sale for $4.50. That exact package of cheese would've cost me half that at the Commissary. So, with this Government shutdown, and the possibility of the Commissary closing it's doors this Thursday it will hit many military families even harder with having to pay more for groceries. Some prices are a shock to your wallet if you haven't paid them before. I mean, we must eat, right? So, there is no way to avoid groceries. Just as there's no way to avoid gas. Even with the Government Shutdown, military personnel must still report to work.
What Is Our Emergency Fund Used For
Our emergency fund is not a large stash by no means, but we are not concerned about groceries, gas for hubby to continue to go to and from work every day, and paying our bills for a few months. Remember, it's an emergency fund, not a savings account. It means we are to use these monies for necessities while there is no paycheck coming in.
How Can You Fund Your Government Shutdown Emergency Fund
An emergency fund just isn't a good idea for military or government employees in case of a Government Shutdown. It's great for all families for any possible hard time. So, how do we fund our emergency fund?
A portion of holiday gifts are put into that account. Our families give us cash for the holidays. Any money that is gifted to Mr. and Mrs we each take a percentage to spend as we want and the rest either goes into our emergency fund (unless we've already maxed that amount) or Money Market account.
Change. Yes, you know all the loose change you get from shopping? Collect it, head to a coin counter or to the bank to cash it in. Deposit into that special emergency fund and BOOM!!!! I call it effortless savings.
Transfer funds remaining from your budget each month. Ok, this one is a tough one. But, if you have funds left from your budget each month you can either carry it over to the next month, spend it, or deposit into your emergency fund. Every cent counts when it comes to not receiving a paycheck.
Cashback from saving apps. Yes, I'm so serious here; I love my shopping apps and when it's time for payout I usually use the funds for something fun for the family or to pay for the operation of this site. But, it's also an option to build an emergency fund without shaking things up too much with your current finances.
Last, but not least…Put it in your monthly budget.  This is probably the least popular, but planning will save a lot of headaches and worry. Having at least one month of bills set aside is better than nothing.
If you need assistance, please check with your banks and other resources, but these five ideas are things to think about and put into place for the future. There is always a chance for another Government Shutdown. You may also want to check out a Facebook group a friend started to help Military families find resources and support during this shutdown and beyond. Let her know MomJonz sent you.
Did you enjoy this article? Useful? Entertaining? Your support is appreciated in helping us continue spreading our message and sharing content. The cup of coffee you buy is greatly appreciated.

Do you want to join a fun, supportive group of women? Come on over to our supportive, loving and fun facebook group. Mamas and Coffee® is all about the REAL of womanhood. Join Us.