This website contains affiliate links. As an Amazon Associate, I earn from qualifying purchases. Some posts are in collaboration, guest, and partnered in efforts to bring YOU great information and inspiration to your life..
As the weather gets warm, we naturally want to spend more time outdoors. Whether this is by going on more frequent afternoon walks, napping under the shade of a big tree, or simply sitting outside and enjoying the warm breeze, we're all ready for some Vitamin D. The spring weather is also the perfect excuse to throw a backyard party! Here are a few ideas to get you started.
Flower Arranging Party
Put all your spring blossoms to good use! If you have a large flower garden, there's no reason to not share the beauty! Invite over a gaggle of girlfriends, and talk as you select flowers from your garden to create beautiful bouquets. Alternatively, have all of your guests bring a bunch of their favorite flower, and everyone can share flowers to create unique floral arrangements to take home and enjoy.
English High Tea
Nothing says garden party quite like English tea. Serve traditional English teas, such as Earl Grey, as well as coffee and herbal teas, so there's something for everyone. The perfect snacks to accompany your tea would be buttermilk biscuits with homemade jam, clotted cream with strawberries, and finger sandwiches. Keep it casual, or invite all of your guests to dress up in pastel dresses and hats.
Backyard Movie Night
This is a great party idea for the whole family! Setting up a projector screen is fairly simple. You can rent or borrow one from a friend, or you can project the movie directly onto the side of your house or fence, as long as you have a large enough flat surface. Pop up a few giant tubs of popcorn and set out bowls of candy for everyone to enjoy with their popcorn. Lay out some soft blankets and lawn chairs, and get cozy! This article has some more tips and tricks to consider.
DIY Brunch
You can never go wrong with brunch! Everyone's favorite weekend meal, this backyard party is sure to be a hit. Serve it buffet style with a waffle bar, make your own mimosas, a yogurt parfait station, and all the fixings for making your own eggs benedict. Everyone will be able to enjoy their favorites, and enjoy their brunch outdoors in the warm sun. It's the perfect opportunity to hold this sort of outdoor party, because even as the weather gets to be unbearably warm, it will still be cool in the late morning, which is the ideal time to have brunch.
Painting Party
The best place to have a messy party activity is your backyard! You can have all of your guests participate in a group painting, like a large mural or canvas. Or you can have everyone make their own creations on individual canvases and take inspiration from the nature around them. Alternatively, try setting up paint darts! Fill individual balloons with various colored paint, and then attach them to a large canvas, which you can prop up against a fence or the side of a house (make sure there are no windows nearby, of course!) Supply your guests with darts, and everyone can have fun throwing them at the paint filled balloons, creating designs as the balloons explode. There are countless ways to enjoy painting outdoors!
Potluck picnic party
This is probably one of the best alternatives to a backyard barbecue. The weather doesn't quite feel warm enough to warrant a barbecue, but you can still entertain your guests outside. Have all of your guests bring a different side dish or dessert, and you can provide the main dish. Set up picnic tables and picnic blankets, and invite everyone to just eat and mingle. This is a very casual party, but it will give everyone ample time to enjoy being outdoors and enjoy your beautiful backyard without bothering to pull out your grill and serve everyone hamburgers.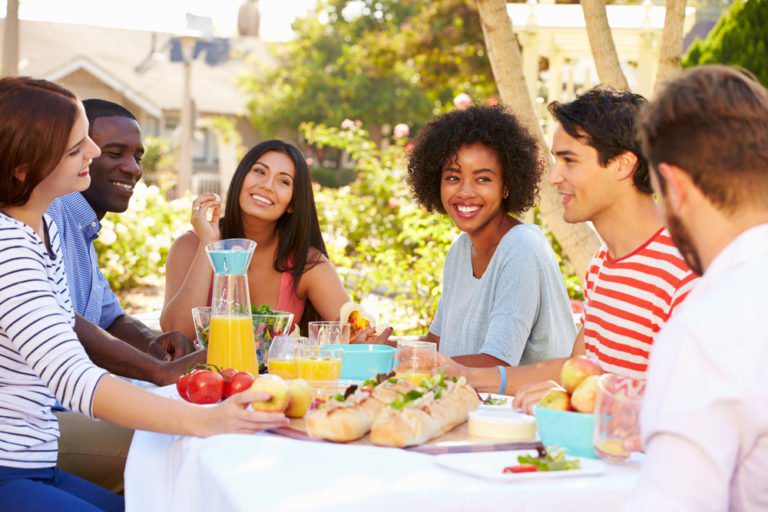 Cinco de Mayo party
May is considered to be the last month of spring, and a Cinco de Mayo party will be the perfect party to finish the spring season. Creating your own tacos and fresh margaritas will create a casual atmosphere. Your guests will be guaranteed to have a festively fun time enjoying the holiday. Try having it in the evening, when the weather is warm still from the day, but you can enjoy the night as it gets dark.
These are great backyard party ideas. Â Thank you for these great ideas, Aurora. Cinco de Mayo is right up my alley. Â The painting party sounds like something fun to do with the kids. Â What do you think? Â Will you try any of these to end spring and into the summer? Â I know I will! Â
Did you enjoy this article? Useful? Entertaining? Your support is appreciated in helping us continue spreading our message and sharing content. The cup of coffee you buy is greatly appreciated.

Do you want to join a fun, supportive group of women? Come on over to our supportive, loving and fun facebook group. Mamas and Coffee® is all about the REAL of womanhood. Join Us.

Latest posts by Contributor
(see all)