This website contains affiliate links. As an Amazon Associate, I earn from qualifying purchases. Some posts are in collaboration, guest, and partnered in efforts to bring YOU great information and inspiration to your life..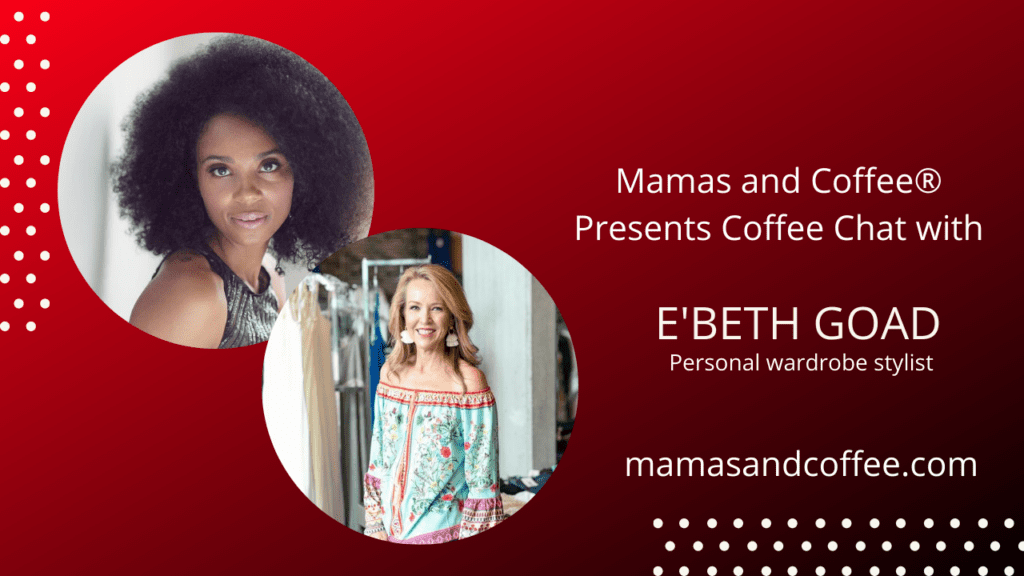 Mamas and Coffee® hosts Coffee Chats every Friday in their Facebook group. These LIVES are where individuals can sign up and chat about life. It's REAL, RAW, and RANDOM. But oh, so fun.
Let's Introduce Our Coffee Chat Guest
E'Beth Goad is a personal wardrobe stylist, a style educator, and an Active Duty Navy Spouse. She is originally from Chapel Hill, NC and attended college at Elon University.
Following a career as a litigation adjuster in the insurance industry, E'Beth began her personal styling business in 2011.
She teaches women simple solutions for how to look and feel their very best without breaking the bank, often by "shopping" their own closets! The immediate boost in self-esteem is a jump start on their journey to success.
As a style educator, E'Beth teaches how to package yourself or your employees to communicate your most powerful message with a professional competitive edge, the importance of personal branding, and how to successfully achieve that image. She is an expert in impression management and effective non-verbal communication.
E'Beth is a graduate of The Lisa Maile School and has had the privilege of training in New York with Stacy London, and is a graduate of the prestigious School of Style in LA. Her experience as a former plus size and a current military spouse has afforded her the opportunity to put her training into practice. She is no stranger to being "physically, fiscally, and geographically challenged" and use that experience to teach clients how to overcome their wardrobe challenges.
She is married to Dean, her college sweetheart of over 21 years and lives in the DC Metro area with her dog, Emaline. E'Beth is a lover of all things coffee and is an admitted handbag addict.

What Will You Hear During This Coffee Chat?
Capsule Wardrobe
Dressing YOUR body type
Shopping YOUR own closet
Not breaking the bank to look good
The Sensational Style Society
and much more
You can watch the interview video or take a listen at our podcast – Mamas and Coffee Live.
Be sure to take a listen, and learn more about E'Beth.
Did you enjoy this article? Useful? Entertaining? Your support is appreciated in helping us continue spreading our message and sharing content. The cup of coffee you buy is greatly appreciated.

Do you want to join a fun, supportive group of women? Come on over to our supportive, loving and fun facebook group. Mamas and Coffee® is all about the REAL of womanhood. Join Us.