This website contains affiliate links and sponsored posts. A small commission is earned when you click and purchase via my affiliate links. I am also paid to write articles for brands. But no worries, all opinions are mine.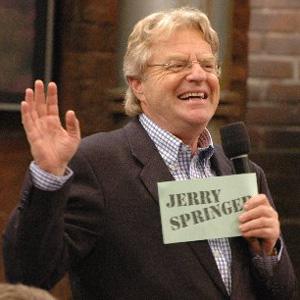 We all have at least one guilty pleasure in our life.  I must admit, my husband thinks I'm crazy when I rush him out the door so I can watch Jerry Springer peacefully each morning. 
8:00 A.M. brings a little joy to my life. I grab a nice cup of coffee, get the dogs settled, grab a blanket and curl up on the couch.  I always wonder why anyone in their right mind would even go to that show.  But, hey!  Who am I to judge?  Someone wants to go and air some outlandish part of their life. Most of the stories are elaborated a bit in my opinion.  Then again, some of my Facebook friends seem to live their lives exactly as shown on The Springer Show.
This is just one of the crazy episodes.  Who goes on TV talking about they are sleeping with their friend's girlfriend and mom?  This is some Jerry Springer mess.  HAHAHAHA!  Anytime I'm out with or talking to friends, and we see something crazy happen we immediately turn to one another and say, "THIS IS SOME JERRY SPRINGER HOT MESS!"
Yes, I watch Jerry almost every day.  It reminds me that my family is pretty normal and boring.  lol
Please note: This post is for your reading enjoyment, and there may be affiliate links shared.  MomJonz thanks you for visiting and sharing her blog, as well as, clicking and purchasing via shared links.  Enjoy your day!  Laugh a little; it's great for the soul.  

Do you want to join a fun, supportive group of moms? Come on over to our supportive, loving and fun facebook group. Mamas and Coffee® is all about the REAL of womanhood. Sit back and join in the conversation and know that You ARE NOT ALONE!

MomJonz is a mother of three and wife to a US Naval Officer.She believes you should live life to the fullest because you only have one!This isn't your regular ole mommy blog.Trust me; she will touch on all aspects of love, life, family and home, but it will be real and transparent.Come on, grab your selected beverage and take a read.